Current amount:
6,300 EUR*
Starting bid: 6,300 EUR
End: 04-15-19 15:00:00 Berlin
04-15-19 09:00:00 New York
04-15-19 06:00:00 Los Angeles (20 days, 21h:17m)
After entering your maximum bid you will be able to check your entry and you will be provided with further information. Only after a further confirmation your bid will be binding.
*Shipping costs inside the EU and statutory value-added tax included. Shipping outside the EU countries on request.
Junges Mädchen II. 1912.
Woodcut.
Schiefler/Mosel/Urban H 107 II von VII. Signed and inscribed "II.3". One of 7 known copies from the 2nd state. On Japon. 29.6 x 22.7 cm (11.6 x 8.9 in). Sheet: 33,8 x 28 cm ( x 11 in).
[SM].
The last time that a proof of this woodcut was offered on the international auction market was 30 years ago. (Source: Gordonsart.com).

PROVENANCE: Karl & Farber Munich, June 1st, 1973, lot 804 with illu.
Private collection Brandenburg.

Strong impression, in good condition. Verso of upper corner with old mountng remains, minimally showing through to recto. Left margin with a few small skinned spots. Very small creasemarks in broad margin. [SM]
Similar objects on the international auction market

EMIL NOLDE
Mann und Weibchen, 1912,
Woodcut
32,500 €

EMIL NOLDE
Dampfer (Groß Dunkel), 1910,
Etching
27,500 €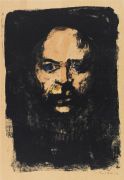 EMIL NOLDE
Männerkopf (Selbstbildnis), 1907,
Lithograph
23,750 €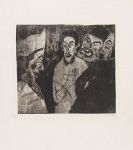 EMIL NOLDE
Schriftgelehrte, 1911,
Line etching
22,500 €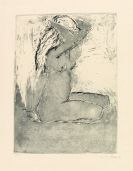 EMIL NOLDE
Kniendes Mädchen, 1907,
Etching
20,000 €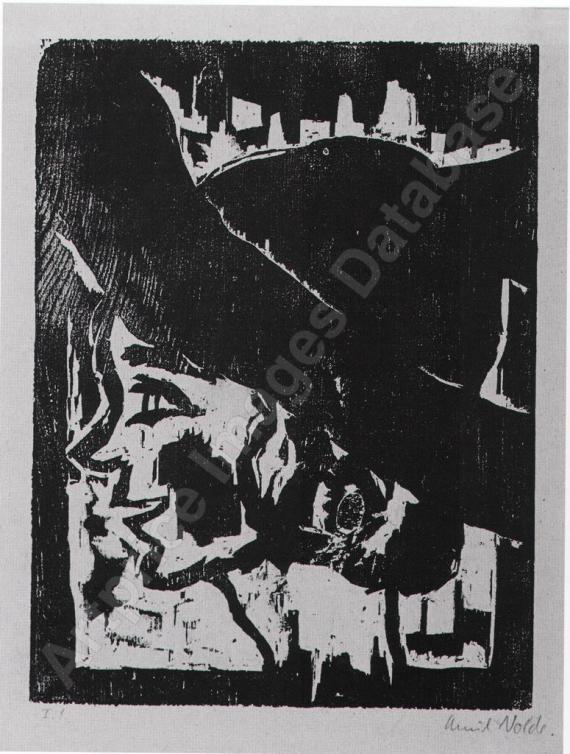 EMIL NOLDE
Junges Mädchen III, 1912
Holzschnitt/vellum
35,6 x 30 cm
12,783 €

EMIL NOLDE
Junges Mädchen I, 1912,
Woodcut
11,250 €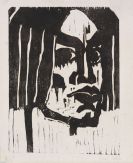 EMIL NOLDE
Frauenkopf III, 1912,
Woodcut
10,000 €