Current amount:
2,450 EUR*
Starting bid: 2,450 EUR
End: 04-15-19 15:00:00 Berlin
04-15-19 09:00:00 New York
04-15-19 06:00:00 Los Angeles (20 days, 20h:54m)
After entering your maximum bid you will be able to check your entry and you will be provided with further information. Only after a further confirmation your bid will be binding.
*Shipping costs inside the EU and statutory value-added tax included. Shipping outside the EU countries on request.
Máscara. 1980.
Multiple . Aluminum, painted.
Verso signed, dated, titled and inscribed. From an edition of 30 copies. 30.2 x 20.2 x 13 cm (11.8 x 7.9 x 5.1 in).
[CH].

Edgar Negret is one of the most important 20th century abstract sculptors in Latin America. As of the 1950s his oeuvre began to include aluminum works. His works can be found at, among others, the Museum of Modern Art, New York and the Stedelijk Museum, Amsterdam. In 1985 the Edgar Negret Museum opened in his native town Popayán. [CH]

In good condition. With tiny isolated color losses and slight traces of rubbing.
Similar objects on the international auction market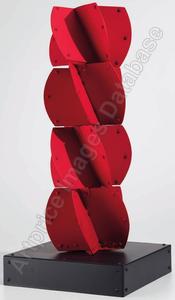 EDGAR NEGRET
"Juguete andino" (1988)
Skulptur Volumen, Aluminium, 100,6 cm x 45,4 cm x 45,4 cm
11.2017
25,000 €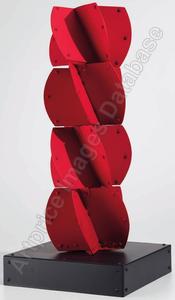 EDGAR NEGRET
"Juguete andino" (1988)
Skulptur Volumen, Aluminium, 100,6 cm x 45,4 cm x 45,4 cm
11.2017
25,000 €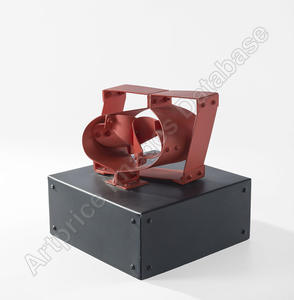 Edgar Negret
Reloj (1986)
Skulptur Volumen, Aluminium, 24 cm x 23,5 cm x 23,5 cm
Schätzpreis: 3.720 € - 4.340 €
3,100 €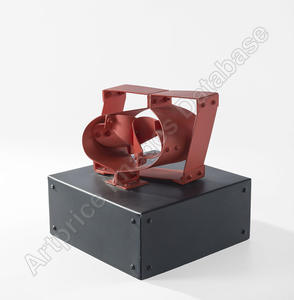 Edgar Negret
Reloj (1986)
Skulptur Volumen, Aluminium, 24 cm x 23,5 cm x 23,5 cm
Schätzpreis: 3.720 € - 4.340 €
3,100 €